Ever wondered what zodiac sign outfits look like? Well wonder no more, as we've pulled together all the star sign outfit inspiration you need!
Your zodiac sign outfit ideas are based on your Sun sign, but you can learn how to dress based on your birth chart if you know your other placements.
If you know your birth chart, pay attention to your Rising, Moon and Venus signs, which all have an influence on your personal style.
It may be hard to predict what the stars have in store for you, but we can guarantee that your zodiac outfits will always be on-trend.
Check out all the zodiac sign outfits below and create a capsule wardrobe that aligns with the stars.
Aries Outfits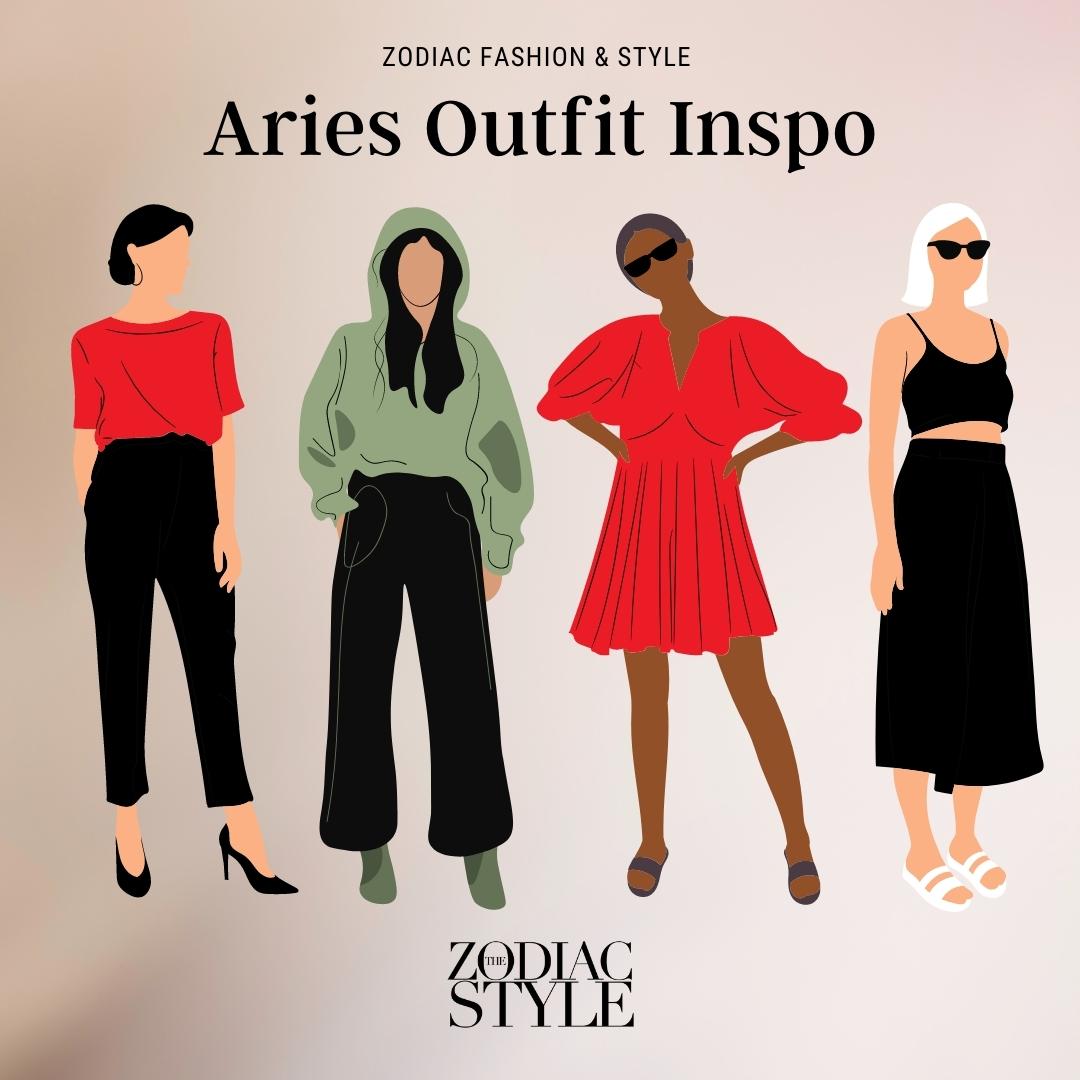 The best Aries outfits are quick to put together, as this sign hangs about for no-one. Featuring a colour palette of red, khaki, black and white, Aries outfits tend to be quite streamlined, with a sport or military influence.
Aries Outfit Style Essentials
Leather
Sportswear
Utility separates
Aries Colours
Aries Fashion Icons
Victoria Beckham
Lady Gaga
Kristen Stewart
Taurus Outfits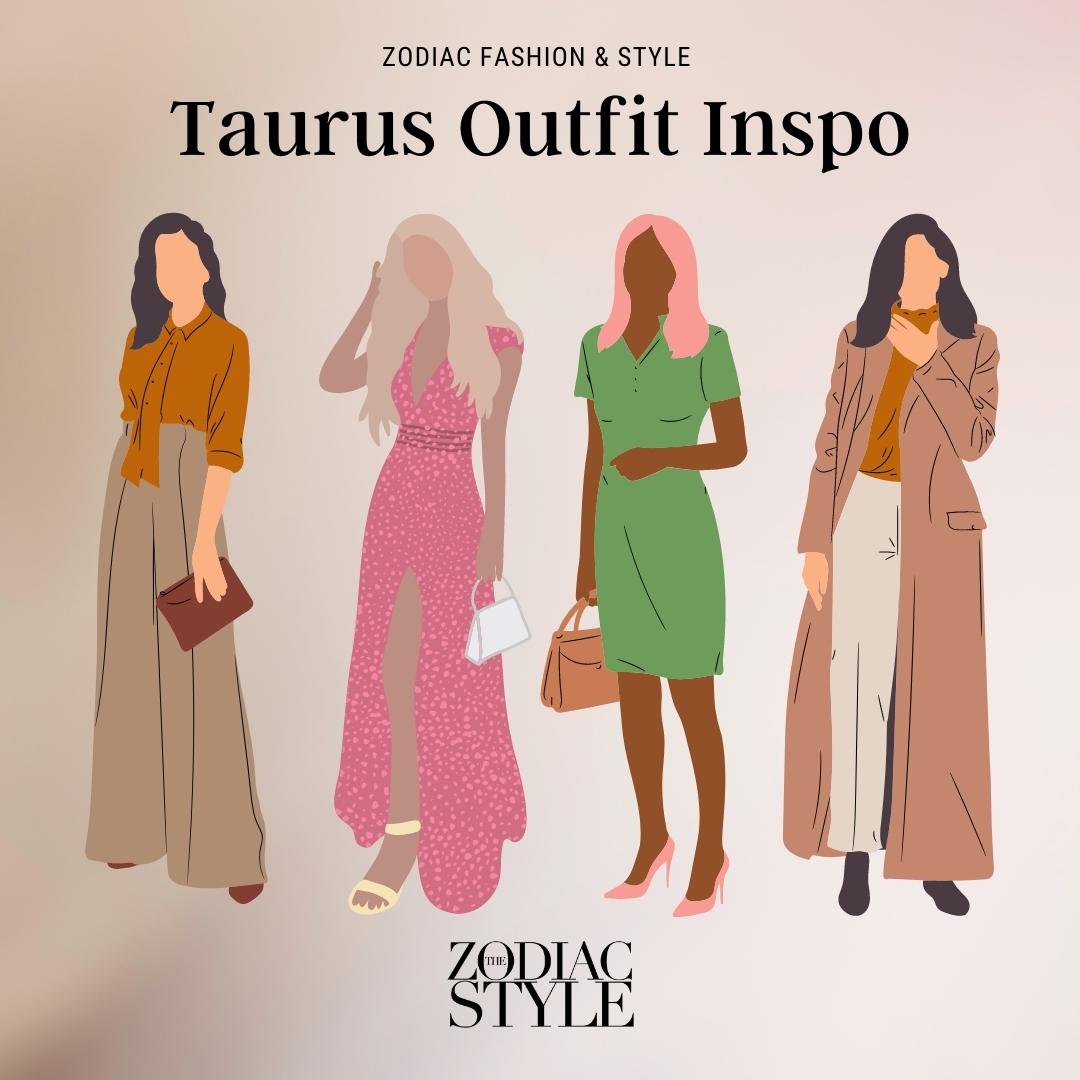 Chic Taurus outfits are grounded by an earthy colour palette of brown, caramel and mocha. Soft pinks, greens and floral prints add a feminine feel to classic neutrals, which luxury-loving Taurus loves.
Taurus Outfit Style Essentials
Floral prints
Neutral tailoring
Soft layers
Taurus Colours
Taurus Fashion Icons
Gigi Hadid
Lily Allen
Adele
Gemini Outfits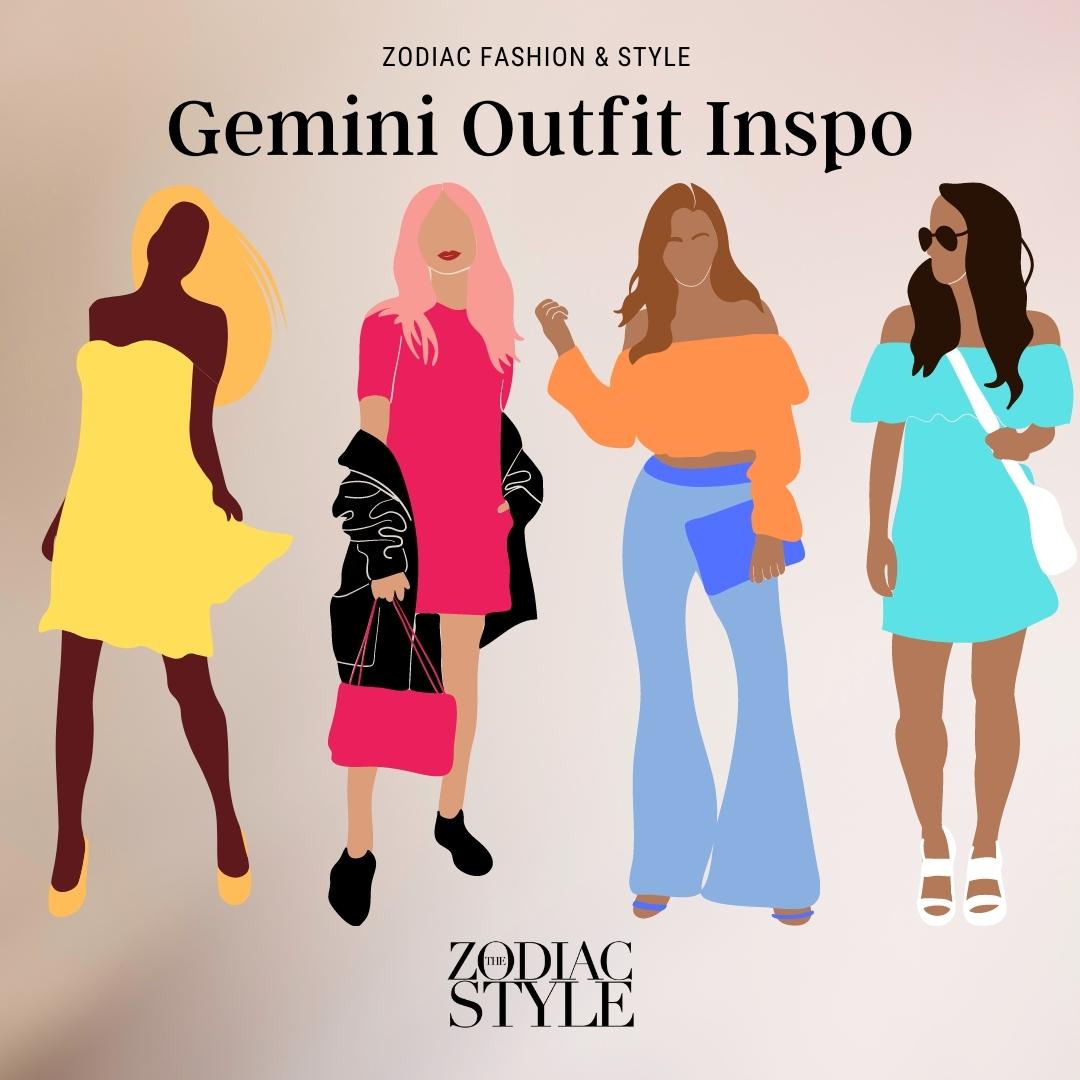 Anything goes when it comes to creating Gemini outfits, as this is a zodiac sign that loves to experiment. Geminis are the magpies of the zodiac, drawn to anything that's bright, shiny and new.
Gemini Outfit Style Essentials
Sparkles
Neon colours
Clashing prints
Gemini Colours
Gemini Fashion Icons
Emily Ratakowski
Kylie Minogue
Lana del Rey
Cancer Outfits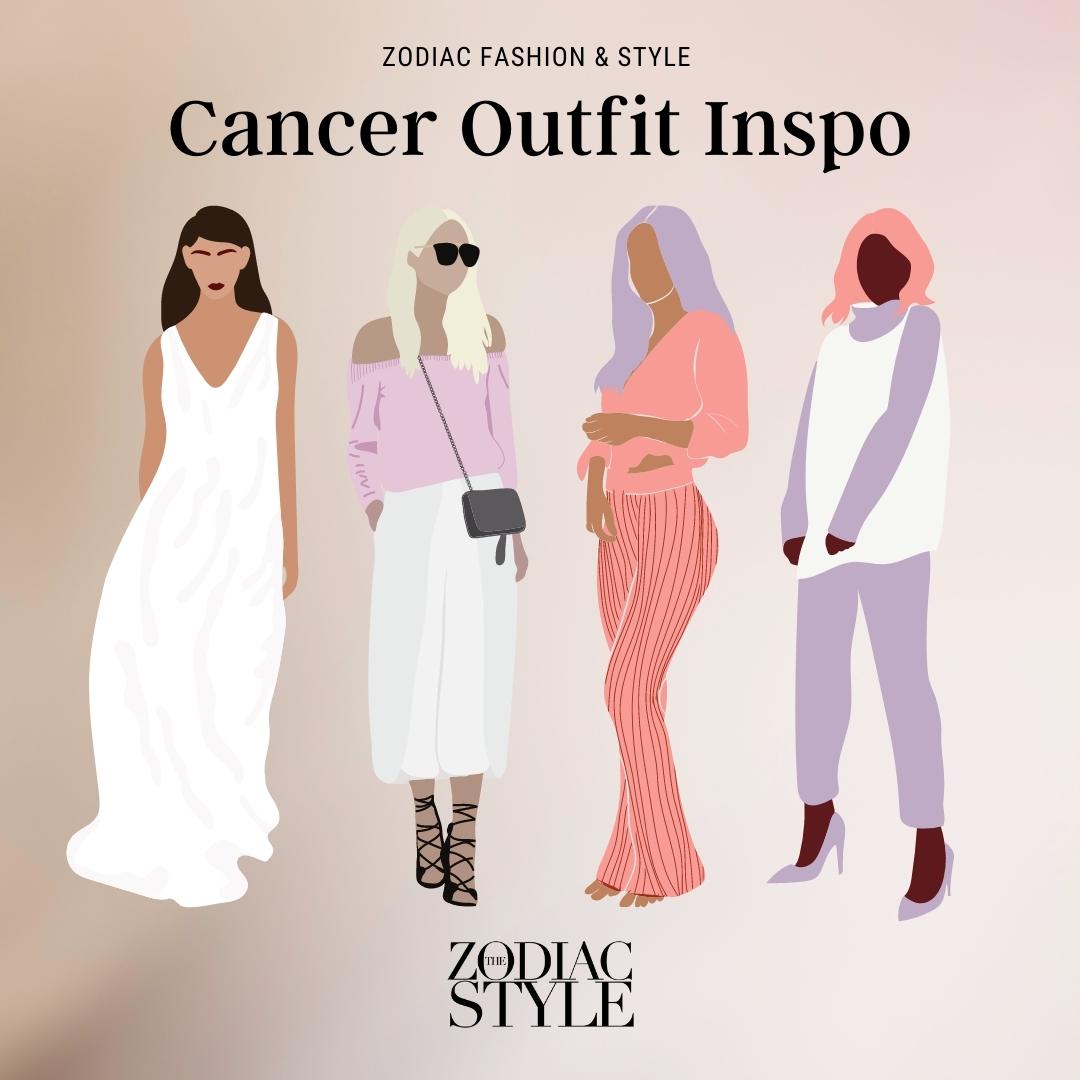 Ruled by the Moon, Cancer outfits are influenced by moonlit shades of lilac, pink and silver. This feminine water sign likes fluid shapes and fabrics in summer or lots of soft layers in winter.
Cancer Outfit Style Essentials
Satin slip dresses
Pastel separates
Cocoon coat
Cancer Colours
Cancer Fashion Icons
Ariana Grande
Perrie Edwards
Khloe Kardashian
Leo Outfits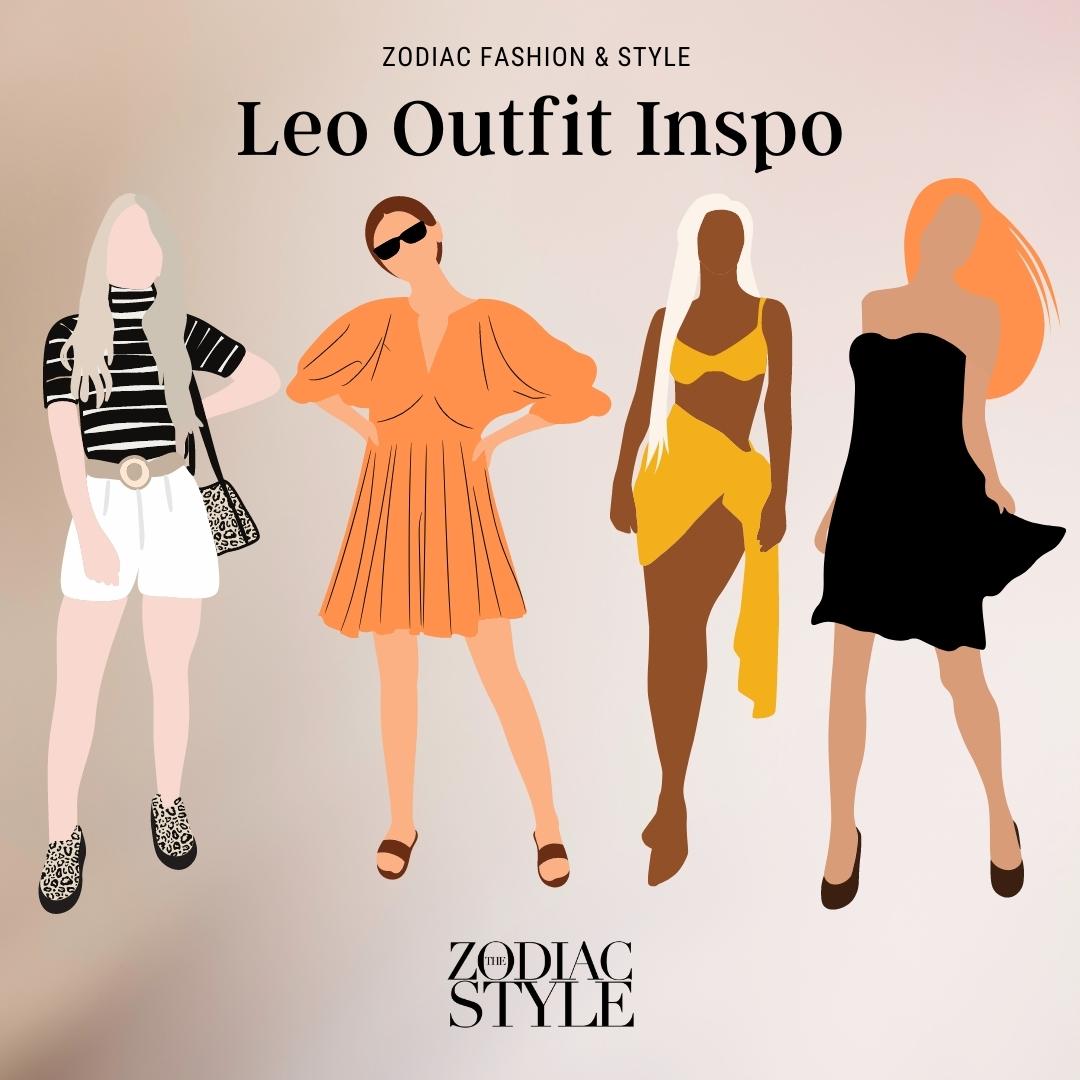 This fire sign likes to be the centre of attention, so Leo outfits are designed to turn heads. Leos love combining animal print with daring silhouettes for dramatic effect, accessorised with plenty of gold for an expensive look.
Leo Outfit Style Essentials
Animal prints
Risque cuts and fabrics
Gold jewellery
Leo Colours
Leo Fashion Icons
Kylie Jenner
Jennifer Lopez
Cara Delevingne
Virgo Outfits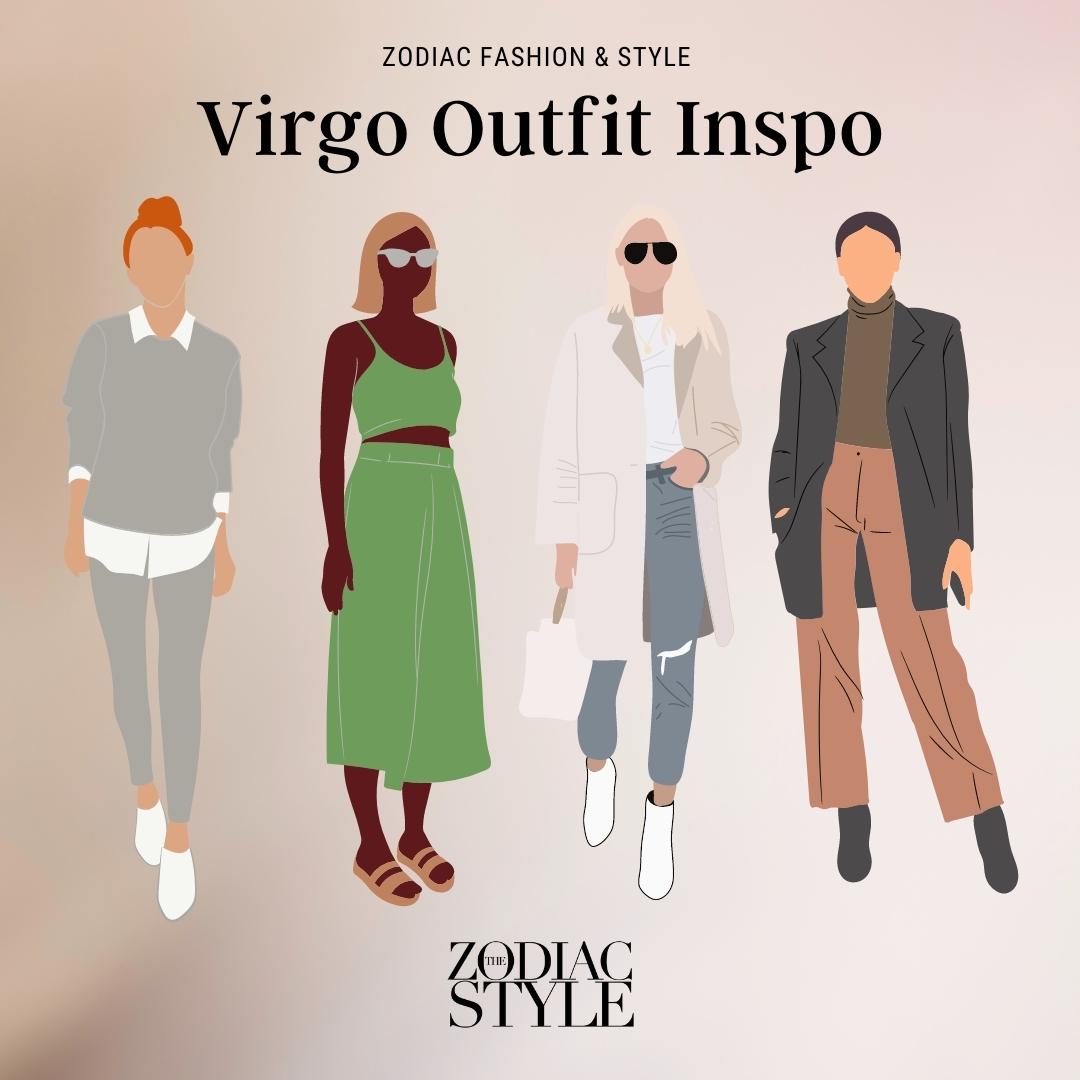 Earthy Virgo outfits are an eclectic mix of geek chic and bohemian babe. Virgo loves a print but equally likes to keep it real with a messy bun, glasses and sweater for a preppy look. Power dressing is another Virgo speciality, with tailoring top of their wardrobe priority list.
Virgo Outfit Style Essentials
Trouser suit
Printed maxi dress
Tailored coat
Virgo Colours
Virgo Fashion Icons
Beyonce
Zendaya
Blake Lively
Libra Outfits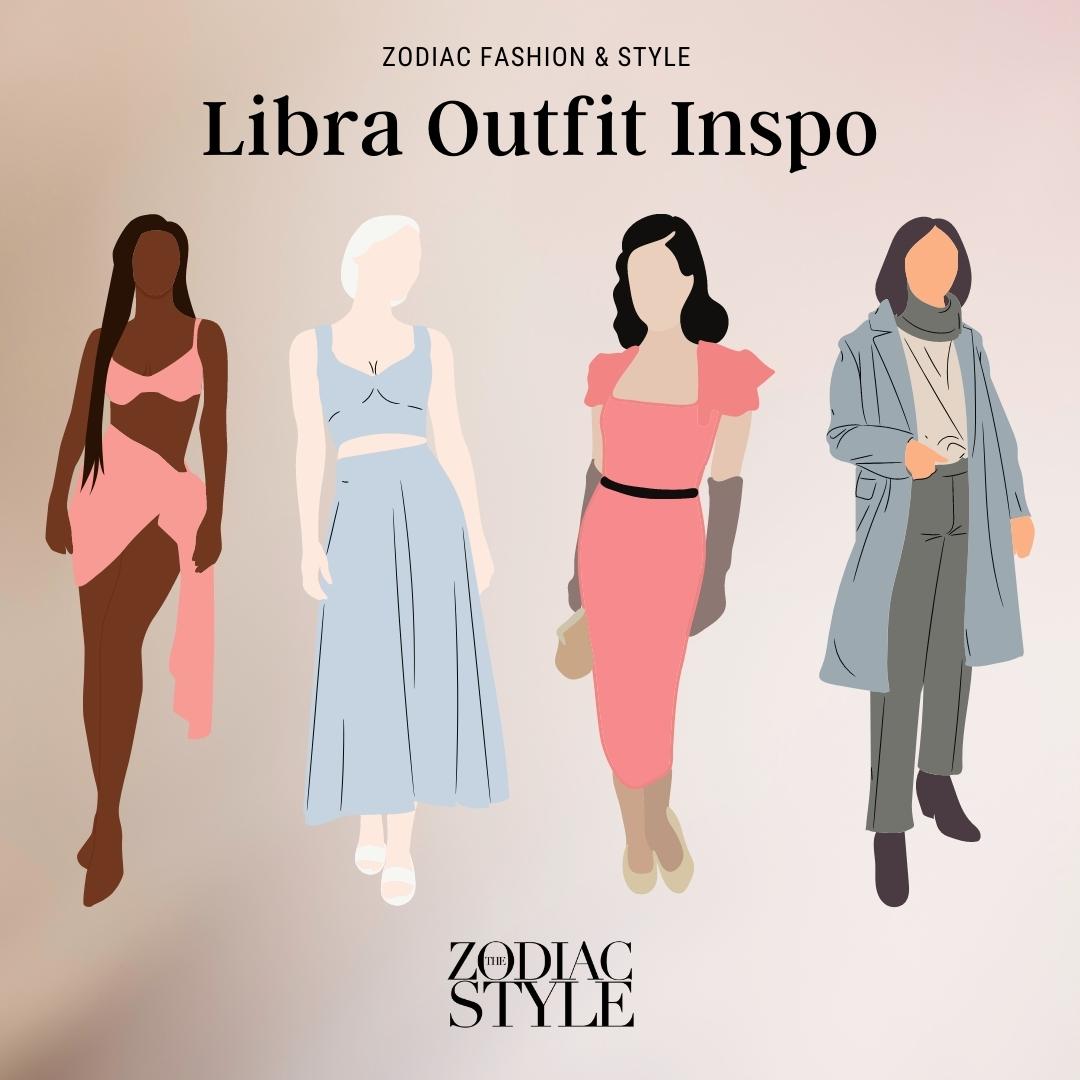 It's all about the balance when it comes to Libra outfits. Feminine Libras are experts at rocking a co-ord, two-piece and head-to-toe tonal colour block. Although they prefer a pretty look, Libras can also be daring in outerwear that looks like underwear outfits.
Libra Outfit Style Essentials
Libra Colours
Libra Fashion Icons
Kim Kardashian
Bella Hadid
Gwen Stefani
Scorpio Outfits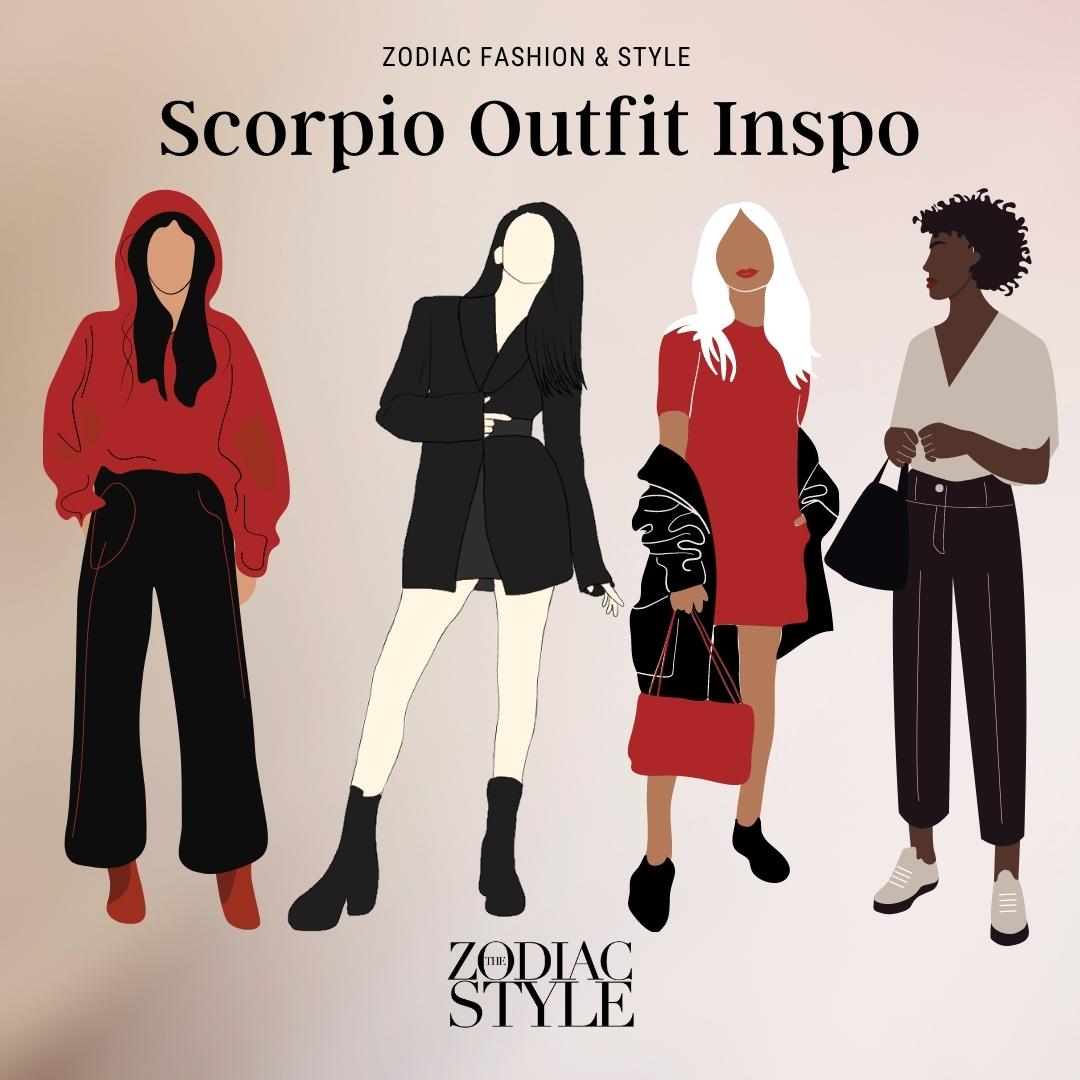 The best Scorpio outfits feature dark shades and a hint of danger! This is a sign that loves the shock factor, so expect the unexpected. Scorpios also like extremes and their outfits are no exception. Whatever they are wearing, it will always hover on the too much or not enough line!
Scorpio Outfit Style Essentials
Leather/PVC
Sheer lace
Sharp heels
Scorpio Colours
Scorpio Fashion Icons
Kendall Jenner
Katie Perry
Alexa Chung
Sagittarius Outfits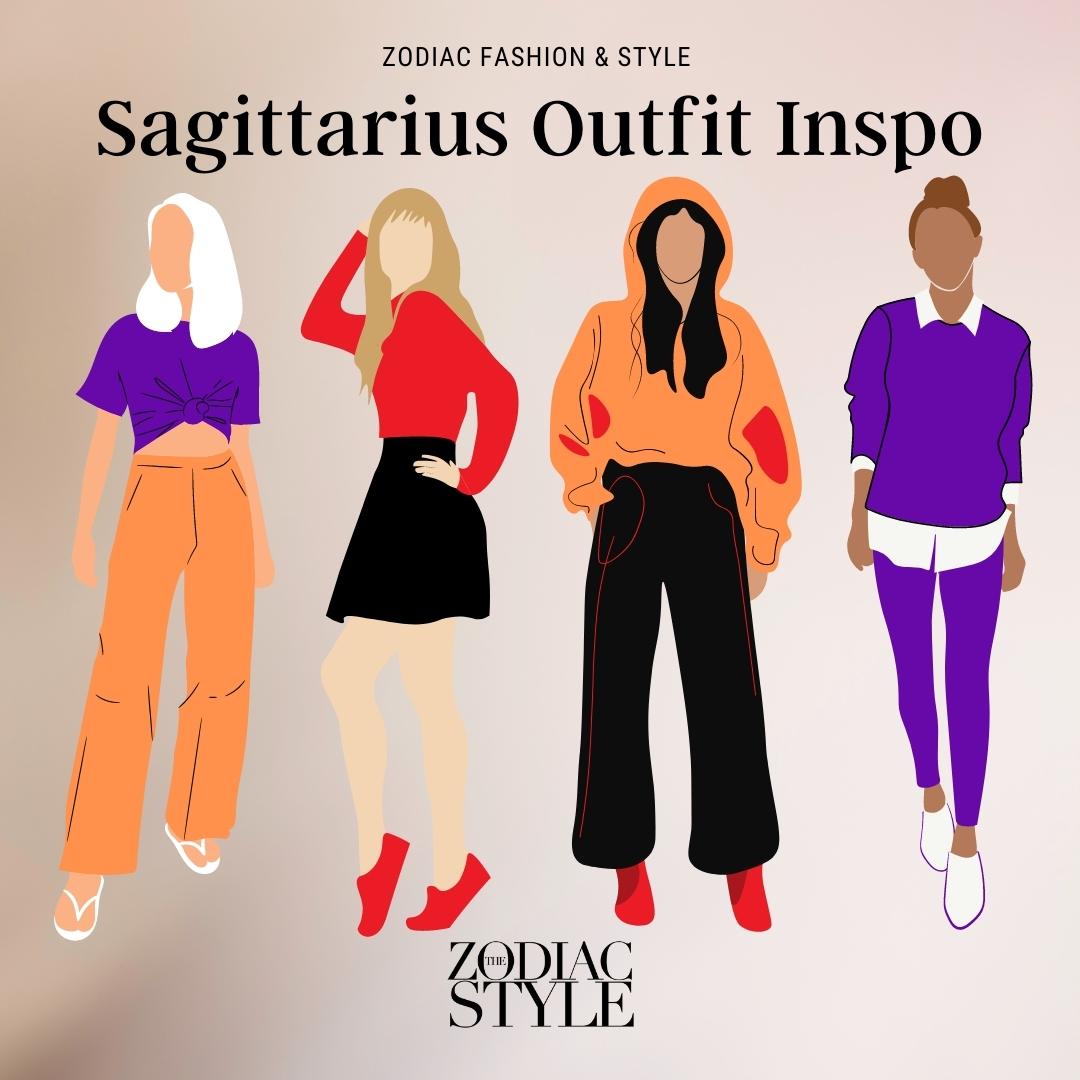 Adventurous Sagittarius outfits are bold, bright and unique. Sagittarius wear what they like and rarely care if an outfit 'goes' together. This sporty sign loves a bright colour combination, even on their preppy dress-down days.
Sagittarius Outfit Style Essentials
Slogan T-shirt
Clashing colours
Oversized everything
Sagittarius Colours
Sagittarius Fashion Icons
Britney Spears
Miley Cyrus
Taylor Swift
Capricorn Outfits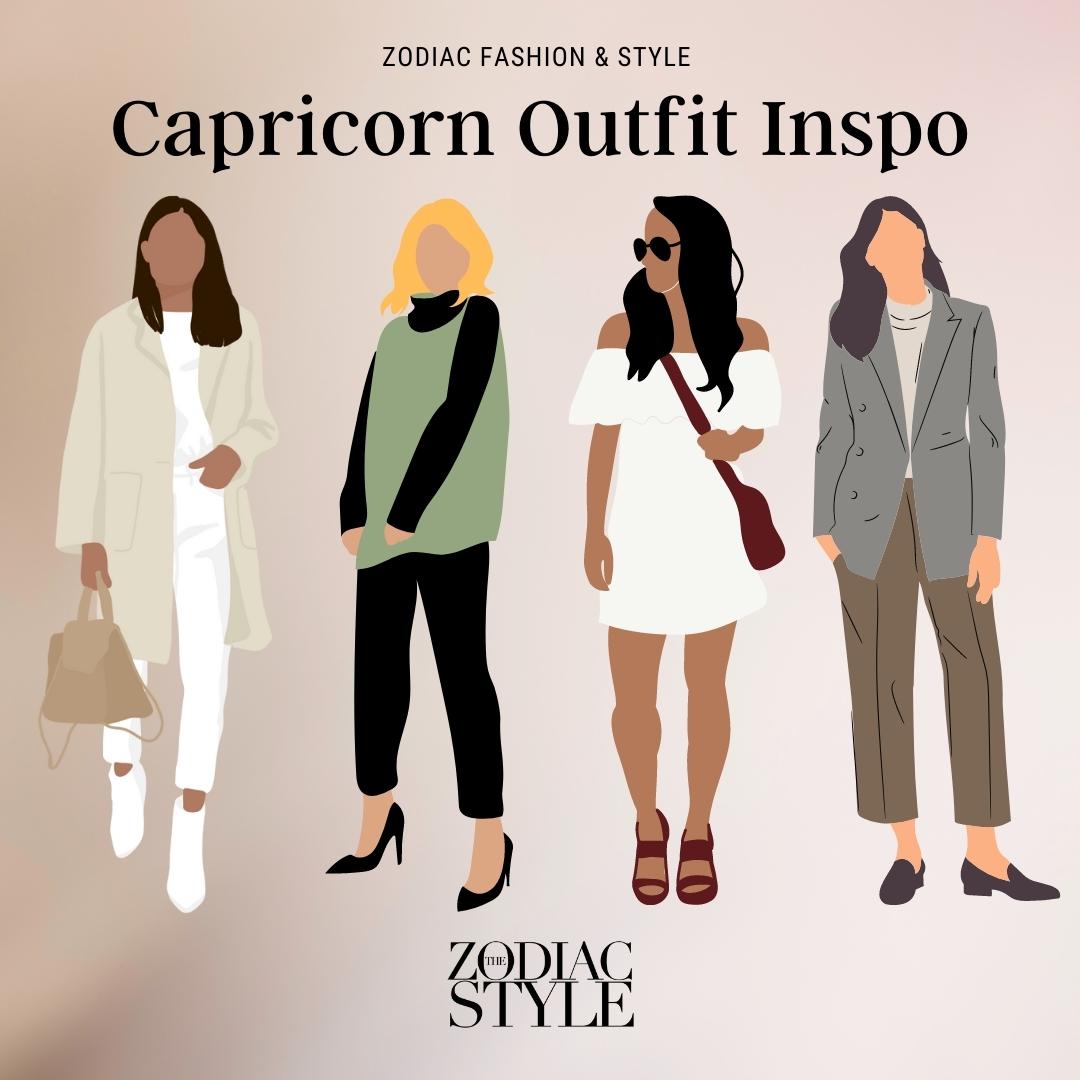 Serious Saturn influences Capricorn outfits, as this is a zodiac sign that's rarely flashy, even if their outfits cost a bomb. Capricorns are often known as the elder states people of the zodiac and they love dressing in vintage styles from decades past. This also suits their frugal mindset, where plenty of bargains can be had in various charity shops and resale markets!
Capricorn Outfit Style Essentials
Vintage pieces
Tailoring
Faux fur
Capricorn Colours
Capricorn Fashion Icons
Kate Moss
Sienna Miller
Kate Middleton
Aquarius Outfits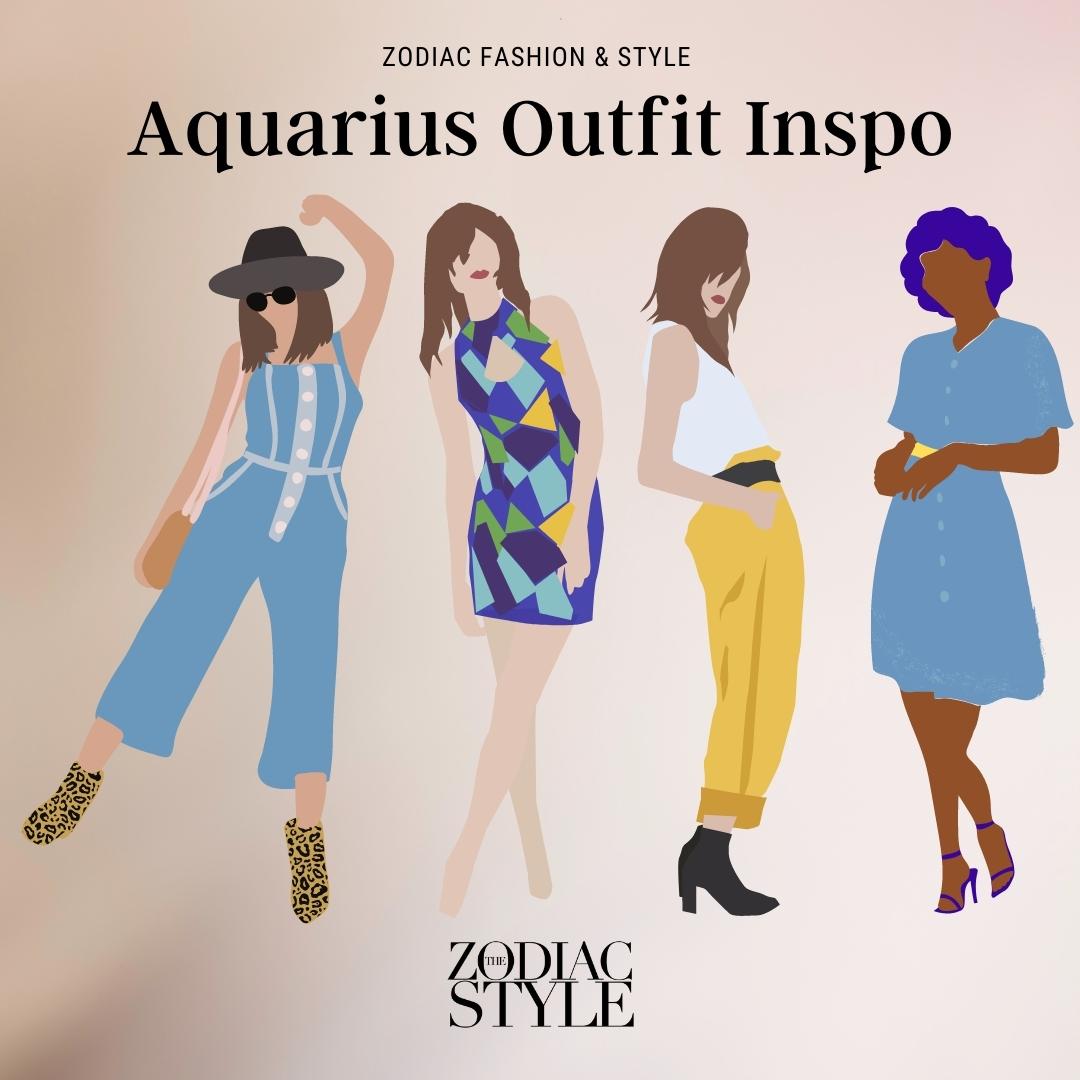 There are no rules when it comes to Aquarius outfits! Aquarius style is a melting pot of old and new, with an eclectic futuristic vintage feel. This air sign is the master of reinvention, so recycled denim and embellished bohemian styles appeal to their unique sense of style.
Aquarius Outfit Style Essentials
Denim
Rainbow colours
Metallics
Aquarius Colours
Aquarius Fashion Icons
Paris Hilton
Jennifer Aniston
Elizabeth Olsen
Pisces Outfits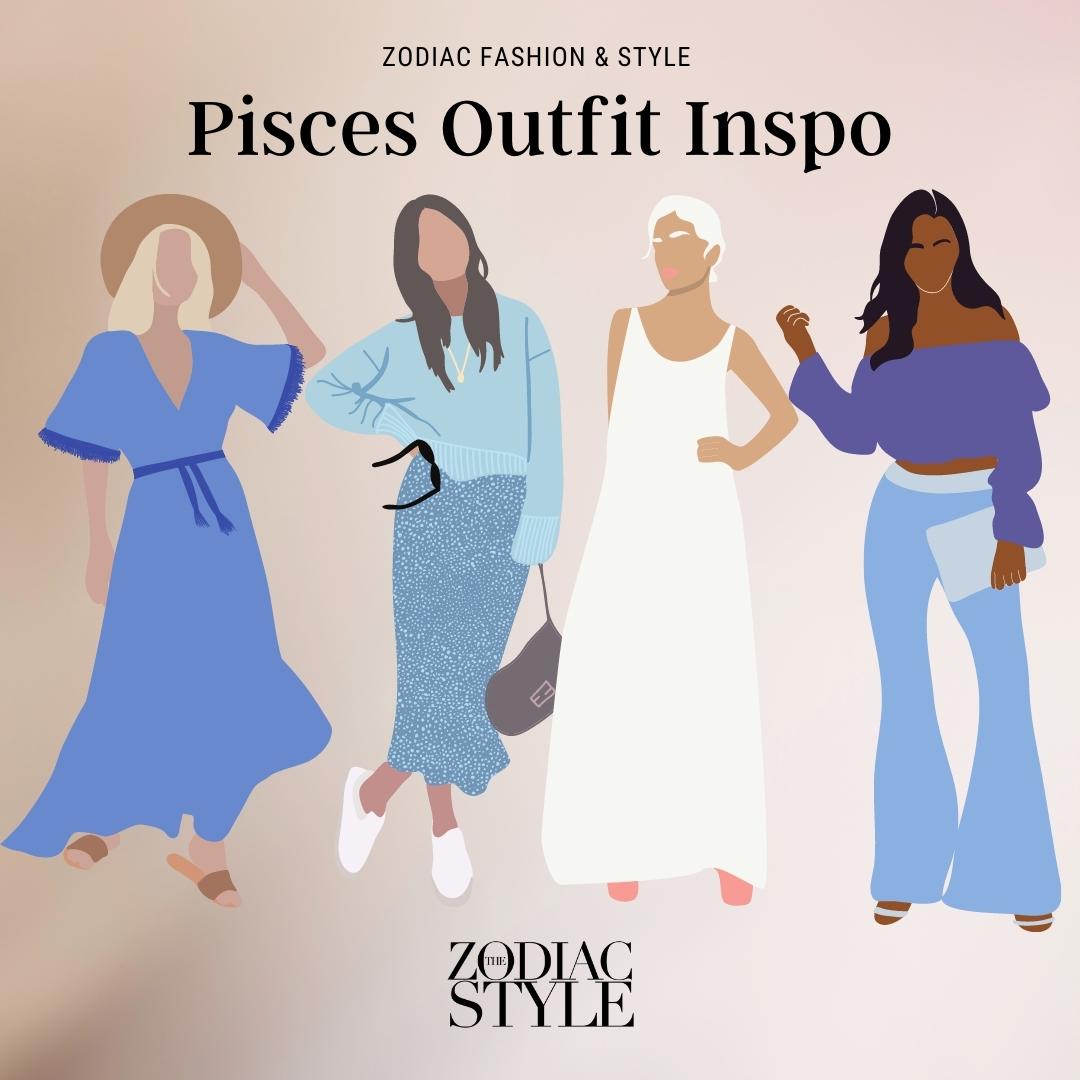 Dreamy Pisces outfits take inspiration from the sea, thanks to this water sign's oceanic alignment. Aquatic shades and glistening, flowy fabrics give Pisces outfits a bohemian, ethereal feel.
Pisces Outfit Style Essentials
Shimmering fabrics
Pyjama dressing
Tiers and ruffles
Pisces Colours
Pisces Fashion Icons
Olivia Palermo
Rihanna
Drew Barrymore